If you're planning on purchasing the best Canadian maple syrup on the market and need some advice, look no further! We've done the research, reviewed the brands, and even put together a comprehensive buyer's guide to help you find the best offer on the market.
Best Canadian Maple Syrup Brands
ReviewMoose appreciates your support. We might earn a commission at no extra cost to you if you buy through the links on our site.
Read our full Affiliate Disclosure.
Best Organic Maple Syrup
Kosher
Organic
Gluten-free
No artificial additives
Best Maple Syrup for Pancakes
Locally harvested
Unmatched flavour
All-natural ingredients
Processed in a CFIA-certified facility
Good Maple Syrup With Just Enough Versatility
Extended shelf life
Certified Kosher and organic
Deep caramel flavour
Unwavering purity
Best-Rated Maple Syrup Reviews
If you're looking for high-quality maple syrup, you've come to the right place. We've included detailed information on some of Canada's best, as well as tips on how to choose the best brand.
Let's get started!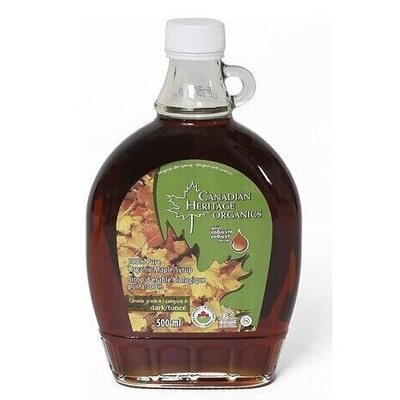 Best Organic Maple Syrup
Grade:

A Dark

Origin:

Appalachian region

Available in:

500 ml
---
We've included Canadian Heritage Organics in our list for their dedication to creating healthy, organic products, as the name suggests. We really liked this syrup because it comes from the Appalachian region, known for producing some of the best maple syrup in the world due to the mineral concentration of the soil.
They also guarantee the best manufacturing methods overseen by three generations of experienced artisans. So, if you're searching for distinctive light maple syrup, this is the brand for you.
This company is one of the top producers of maple syrup with the strongest flavour and a rich dark colour. Furthermore, Ecocert Canada has certified all Canadian Heritage Organics products as organic. Plus, our Jewish readers will be pleased to know that they're also certified Kosher by Montreal Kosher.
Another key selling point is that Canadian Heritage truly respects organic farming techniques. Their maple syrup contains no artificial additives, colouring, preservatives, or chemicals applied at any stage of the process.
---
Pros
+

Kosher

+

Organic

+

Gluten-free

+

No artificial additives
Cons
−

Might be too runny for some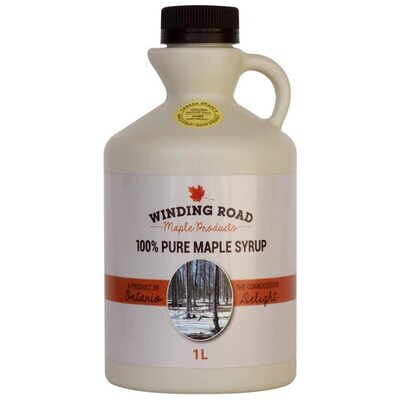 Best Maple Syrup for Pancakes
Grade:

A Amber

Origin:

Elmira, Ontario

Available in:

1L
---
Made on a family-operated farm in Elmira, Ontario, this award-winning and locally harvested maple syrup is vegan-friendly and gluten-free.
Following the industry-leading manufacturing standards, the Winding Road Maple Syrup is free of preservatives, artificial flavours, and additives. In other words, it's a great choice even for those with special dietary needs.
The syrup has also won the Quality and Taste Competition in  Elmira — the home of the world's largest maple syrup festival — two years in a row (2014 and 2015).
Another feature worth considering is the product's affordability. To our delight, a 1-litre of this 100% pure maple syrup costs $29.99. Moreover, given its thickness, it's likely it will last you for quite some time.
We tested this syrup by adding it to meals (pancakes), desserts (ice cream), and beverages (tea and coffee). Both the taste and consistency deliver, that is for sure.
What's more, we put it in a fridge to double-check if it was pure (a watered syrup will freeze almost immediately). As expected, the syrup didn't freeze solid. Instead, it just got thicker.
---
Pros
+

Locally harvested

+

Unmatched flavour

+

All-natural ingredients

+

Processed in a CFIA-certified facility
Cons
−

Unscrewing the cap might get difficult once the syrup crystalizes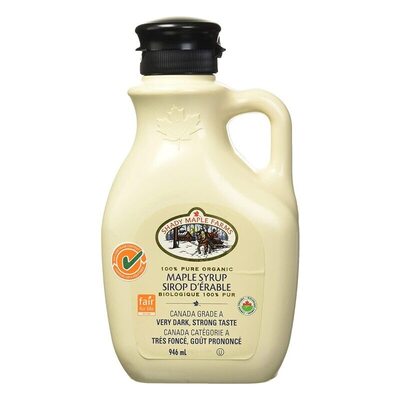 Good Maple Syrup With Just Enough Versatility
Grade:

A Very Dark

Origin:

Plessisville, Quebec

Available in:

946 ml
---
Cited as Canada's best maple syrup by satisfied customers, Shady Farms Organic Maple Syrup from Quebec has made it to our list for many reasons.
First, the unique packaging and no-drip pour spout significantly extend the syrup's shelf life. Secondly, certified Kosher and organic, this syrup has an intense caramel flavour while tasting less sugary.
While dark syrups tend to be recommended for baking, we found the Shady Farms Organic Maple Syrup quite fitting for desserts, yogurts, and pancakes. Without exaggeration, drizzling this good-quality maple syrup on our in-house favourite vanilla ice cream was a one-of-a-kind treat for our taste buds.
You can rest assured that the product manufacturing adheres to strict processing and cultivation regulations. Furthermore, continuous monitoring and stringent criteria guarantee the unwavering purity of the Canadians' favourite.
Given the quality and nutritional value, this maple syrup is an excellent addition to healthy eating. So pamper your taste buds and leverage all the benefits a maple syrup brings to the table.
---
Pros
+

Extended shelf life

+

Certified Kosher and organic

+

Deep caramel flavour

+

Unwavering purity
Cons
−

Might be a little bit watery for some
Picking the Best Maple Syrup
— Buyer's Guide —
When compiling this list of the top maple syrups on the market, we considered various factors. For example, it's best if you're aware of the origin, grade, packaging, pros, and cons when picking the best Canadian maple syrup for you.
Origin
The Beginnings
Collecting maple sap for maple syrup production began long before Europeans arrived in America. Several Native American stories back up this claim. However, there are no documented accounts of when it was first discovered.
The Legend 
According to the Michigan Maple Syrup Association, the Chippewa and Ottawa tribes of Michigan have a legend about a god named NenawBozhoo. He suspected that his people were getting lazy because they drank the pure maple syrup from the maple trees instead of hunting or foraging food. So, he supposedly put a spell on the maple trees, turning the syrup into a watery sap that had to be processed before being ingested.
How Native Americans Processed Maple Sap
While this may only be a story, we know how early Native Americans prepared maple sap. They collected it in large, shallow bowls made from bark and then froze them. This process would separate the water from the sugar.
New and better ways to prepare maple sugar emerged over time. Native Americans began to construct "sugar bushes" and boil the sap using hot stones. When European settlers arrived, they began collecting and then boiling the sap over an open fire. Both of these new processes marked the beginning of quality maple syrup produced in North America.
Today
Today, maple syrup harvesters utilize tubing to carry sap from the tree to a "sugar shack," where it's then boiled into syrup. Though production processes have changed over time, maple syrup's rich and sweet flavour has remained consistent. Nowadays, Canada dominates the world's maple syrup production, accounting for 85% of global output.
Grade
Old Grades
Maple syrup was once rated using three letters: A (light), B (dark), and C (very dark). This method led many individuals to believe that grade A was the best maple syrup grade and of superior quality than grades B and C. However, the quality of all of the syrups was the same.
Grade Distinction
The maple syrup quality grades' sole distinction is their colour and flavour. Syrup from sap gathered early in the season has a brighter colour, and syrup collected later in the season, when the weather is warmer, has a darker one. The richer the flavour of the syrup, the darker it is.
Vermont (the US state with the most significant maple syrup production) established new, less ambiguous maple syrup grading criteria in 2014. In short, all syrups would be designated by the letter "A" but with more detailed names. So, if you're interested in how to find the best grade maple syrup, check out the new grade list below.
New Grades
Grade A Golden Colour and Delicate Taste
Grade A Amber Colour and Rich Flavour
Grade A Dark Colour and Robust Flavour
Grade A Very Dark and Strong Flavour
Packaging
There are a variety of ways to package your maple syrup. The most popular and best maple syrup containers are:
glass bottles to emphasize maple syrup's attractive amber colour
stainless steel and plastic barrels for wider bulk storage choices
classic plastic jugs
Many companies add catchy labels and ornamental elements to their containers to make the finished product more enticing.
Benefits of Maple Syrup
Abundance of Antioxidants
The primary antioxidants contained in maple syrup are:
benzoic acid
gallic acid
cinnamic acid
and different flavonoids such as:
catechin
epicatechin
rutin
quercetin
While most occur in low concentrations, others are found in higher amounts. Thus the antioxidants may offset some of the adverse effects of ingesting the syrup's high sugar content.
Fighting Inflammatory Diseases
Maple syrup world reviews show that it contains anti-inflammatory polyphenol antioxidants. Therefore, it can be ingested in moderation as part of a healthy diet to help avoid diseases including:
arthritis
inflammatory bowel disease
heart disease
The plant-based compounds found in the syrup help to minimize oxidative stress, which causes us to age more rapidly and weakens our immune system.
Protecting Against Cancer
While some data suggests that sugar can cause or contribute to cancer, maple syrup appears to be a considerably less dangerous sweetener. Mainly because maple syrup of the best quality contains antioxidants that help protect cells from DNA damage and mutation.
Maple syrup alone is unlikely to lessen your risk of cancer. However, it's a safer alternative than consuming large amounts of refined sugar or artificial sweeteners.
Abundance of Vitamins and Minerals
In addition to potassium and calcium, good maple syrup brands include significant levels of zinc and manganese. Zinc can help you fight sickness and boost your immunity by keeping your white blood cell count high, whereas manganese is vital for:
fat and carbohydrate metabolism
brain and nerve function
blood sugar control
calcium absorption
Side Effects
Teeth Decay
Because bacteria can feed on sugar in the mouth and grow, all sugar can encourage tooth decay, especially when highly concentrated. Therefore, a person's risk of developing dental cavities increases when they consume more sugar.
Complications of Diabetes
Is maple syrup good for diabetics?  No, as carbohydrates in the form of sugars are found in maple syrup. Because these sugars lack fibre, consuming maple syrup can cause blood glucose and insulin levels to fluctuate. Therefore, ingesting maple syrup may cause problems for people with diabetes in particular.
FAQ
What is the best Canadian maple syrup?
According to our findings, the best one is Escuminac Medium No.1 Great Harvest Maple Syrup. It is graded A Amber Colour and Rich Flavour, and it's readily available. Not to mention that it is organic, pure and unblended. You should give it a try or purchase it as the perfect gift for your friends or family.
What is the best grade of maple syrup?
There isn't one best grade of maple syrup. However, each one offers a different taste, and it all comes down to your personal preference. So, when people want to know which grade of maple syrup is the healthiest, there is no definitive answer. To help you discover what might best suit your needs, here are some rating explanations:
Grade A Golden Colour offers a delicate taste.
Grade A Amber Colour provides a rich flavour.
Grade A Dark Colour offers a robust taste.
Grade A Very Dark Colour delivers an intense flavour.
Which is better: amber or dark maple syrup?
According to our tasters, both the dark and amber variants have a clean maple flavour. But the latter is less intense and more complex than the former. When you compare the amber and dark syrups, you can certainly taste the difference, but whether the amber or dark syrup is better is a matter of personal preference.
What is the healthiest maple syrup to buy?
We're not sure that there is an absolute answer to this question. However, Canadian Heritage Organics Maple Syrup is our pick as the healthiest option from our review. Mainly because they genuinely respect organic farming techniques, so their maple syrup contains no artificial additives, colouring, preservatives, or chemicals applied at any stage of the process
Which syrup is Canada famous for?
One of the most famous Canadian maple syrup brands is Escuminac. Many consider it the manufacturer of the best Canadian maple syrup because of its syrup's exceptionally exquisite and rich flavour and buttery texture.
Conclusion
We hope that our reviews and buyer's guide have given you the necessary information to choose the best Canadian maple syrup for your individual taste. Though there are multitudes of reputable brands on the market, we feel that our suggestions will get you on the right track in regards to enjoying this beloved condiment that is now available in 45 countries around the world.
Remember that If you've purchased 100% pure syrup, it can last for up to a year (unopened) in the pantry. Once opened, it can also last for a year in the refrigerator and indefinitely in the freezer.